Service Design/UX Design A collaboration with: Jiajin Lan, Wenqi Zhu, Jun Zhao, and Farhad Mehta

—

Duration: 8 weeks. My roles:

project manager, creative lead, user researcher/testing, video editor, and wireframes.
About
GIGWORKS is an online platform that safely encourages young creatives to discover new opportunities and develop their professional skills while collaborating with local businesses. The platform focuses on helping creatives to grow their portfolio as well as their experience and for local businesses to find talent that best matches their needs.
︎ Silver in UX, Interface & Navigation, and Website Design
︎ Live Demo here
Final Deliverables

Profiles

For Creatives
Efficient way to show portfolio:
A tangible way to show growth & gauge level.Gamification of skills & experience using badges & ranks to engage members.Skills vetted by actual clients.Past projects are presented in creative's profile.
Relevance

For Creatives
Tailored Gigs for Future Growth:
Level & industry driven gig suggestions that save application time.
Focused suggestions based on your specific future plan.

Helps prepare you for a better position in the market.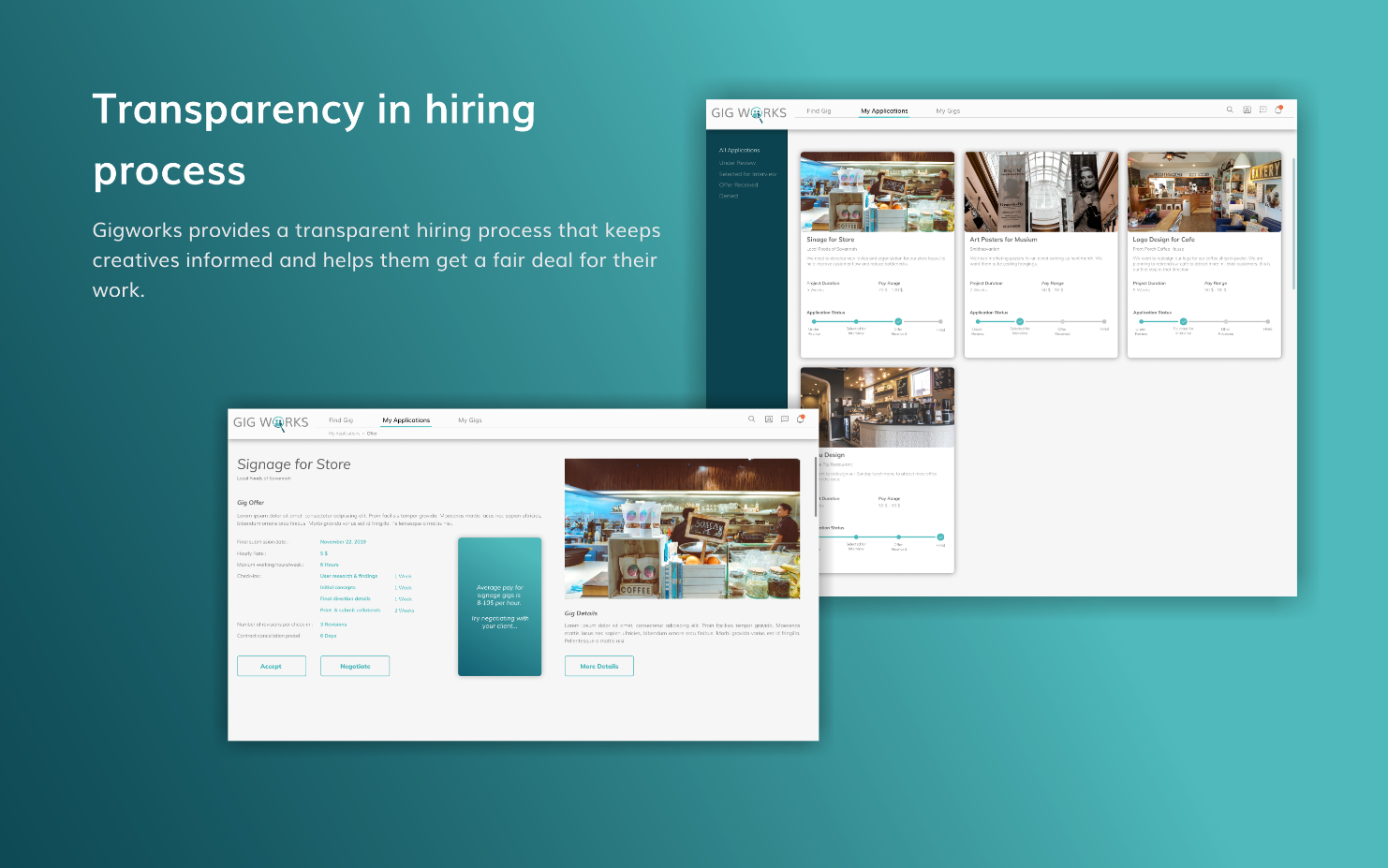 Safety & Transparency

For both sides
Space to find and hire candidates:
Facilitate transparent management of gigs between both parties (negociation and review.)

Clear identification of position and application & gig process.

Safer interaction and protection of scams.

Payment handled in platform.
Collaboration

For both sides
Space to collaborate and do gigs together (with other creatives and the clients:
Transparent gig management for both sides.
Space to review work and give feedback (as project moves on.)
Safer interactions/communication & scam protection.
All work done will be recorded in each gig/profile.
Relevance

For Local Businesses

Find Relevant Candidates Quickly
Allows local business to streamline candidate search based on their needs & budget.

Access to a variety of candidates, that fit the specific gig & filter down to the most relevant.

Relevant creative labor at a lower cost.
Shared Value— Looking into the future

For both sides
Working together for the better of the others will ensure common growth to all sectors. The whole purpose is too seek value from the opportunity spaces to refine/enhance the people, investing into an innovative future.
Understanding the Process

The information provided underneath will not only show the team's research methods, but also thought process, insights, methodology, and overall elements taken into consideration for this project. Hereunder, you will find a small journey map depicting the remaining information provided of the project.
What is out there

Currently, the candidates looking into the competitive job market believe their lack of relevant experience, degree, or the fact that there are too many competitors inhibits their chances of finding their dream job.

While companies believe the market is candidate driven, talented candidates are already employed, making it harder for them to find relevant ones.
The Opportunity
Without any work experience, it is hard for young professionals to find a sustainable job. Even for entry level positions, most recruiters look for candidates with at least 3 years of experience in the field. (data from indeed.com)
This presents a gap between candidates and companies.






How might we use the gig economy to create a space for novice professionals
to gain experiences that will help them be more prepared for their future careers?
Within the opportunity space, we have identified skillsharing to be the backbone of our solution (and a subset of the gig economy).


Skillsharing
For Creatives

53% of the American earning workforce are freelancers (under 25 years old). Skillsharing allows the following:
Spread talent among different roles.

Flexibility, freedom, & personal fulfillment.

Get real work experience and have a opportunity connect to the company.


Gaining income in a proactive way.
ing
For Local Businesses
(Out of 158,000 active client hires) 90% of them are small businesses. Skillsharing allows the following:
Lower costs


Save time.

Access a wider pool of candidates.

Staff flexibility

Control budgets
Target Market

For creative college students & young professionals fresh out of academia that are pursuing creative careers in a market that demands field experience but have no way of gaining said experience.




r

For Local Businesses that need creative professional work for their businesses/projects but cannot afford to hire a professional.
Competitor Analysis
Once our inicial concept draft was drawn, we looked into what our relevant competitors were doing in hopes of differentiating ourselves from the rest.


Based in our analysis, we gathered the following insights:
Security & Trust: Although most websites use security check (except freelancer.com), there a are still scams among them.
Collaboration: Fivver is one of the few platforms that allows users to co-create with the client by getting feedback from clients in a conctant manner.
Candidate Selection Process: The selection process of these websites are backstage actions and there is no transparency (Linkedin allows users to see the people that have viewed/searched them).
Additional Resources:

Most platforms provide features only targeted to freelancers. (Linkedin provides additional resources like education, sharing posts, etc., SCADPro provides visits to the client office, and opportunities for potential internships).
Value Proposition

For creative college students & young professionals who will soon join the workforce by providing a gamified platform to connect with local businesses
that gives them an opportunity to find tailored work experiences unlike existing
freelance platforms that do not consider creatives' security, skills & current experience situation.



r
For Local Businesses (small/medium) that are looking for temporary & task specific labor by providing a gig economy platform that gives them a wider range of relevant candidates unlike other services that provide and overload of scattered & unvetted talent information, making the gig experience untrustworthy & difficult.


User Testing
We conducted an online survey (51 responses out of creative students) and user interviews (16 responses out of SCAD students, SCADPro professors, local businesses and recruiters) to better understand the following:
Past Professional Experiences.

Career Goals.

Job Preparation & Recruiting Processes

Skill Sharing (Pains & Gains)
Out of the responses, we affinitized the gathered data and identified the following:
420 Data Points
"Having skills beyond dessign is what helps you differenciate." (Recruiter, 2019)

"My next step in my career is trying to get more actual experiences." (Student, 2019)
56 Themes
Experience helps me know the real world.
I need to improve professional skills.

Freelance work needs trust.

Networking is more than finding a job.
14 Insights
Creatives want tailored jobs for them.
There is a gap between recruiter expectation within the talent market.
It is important to differenciate yourself.
For Creatives

52.9% of them are getting practical experiences — but only 9% of the respondents are truly satisfied with their internship experience. 28% of responsants said that portfolio building is the most important thing they need to succeed — and 78.4% are currently building resume and portfolio. Yet, "younger students are not proactive when planning for future careers." (Recruiter)


For Local Businesses

Sometimes, recruiters use AI systems to filter applicants (which increases efficiency) — but it can filter out lots of potential talent. 72.8% of companies struggle to find relevant candidates, and recruiters battle to reach crative talents while most of the time they don't have a chance to do that.

Opportunity Spaces
We identified 5 opportunity spaces based on the data that we gathered:
Personas
We created 4 different user personas according to our research:


Concept Development
We made use of an online cart sorting tool to improve the initial information architecture concept we had of our platform. Overall, we collected twentythree responses (twenty from students and three from local businesses.) Additionally, we utilized task analysis of four different scenarios (and their corresponding flow charts) to better understand the user flow on specific tasks — allowing us to smoothen our flow.
Furthermore, we made use of a card sorting tool to receive feedback from our users and improve the overall experience of our card sorting scenarios:
Card Sorting Tool:
Card Sorting Results:
Blueprint
Based on the gathered feedback, we made further revisions to our website's information architecture and its blueprint:


Lo-Fi Wireframes

Based on the feedback from the lo-fi wireframes, we tested prioritization of elements and features with our users to get further critique.


Hi-Fi Wireframes (User Tests & SUS Results)
We created an interactive demo website on Figma (link at the top of the page) and invited other users to test it. Once the test was finished, we asked our users to do a SUS (System Usability Scale) test to measure the usability of our platform. Overall, we got a total score of 70.25, which means the usability is good.