Service Design/Advertising/UX Design
A collaboration with:
Darcy Aders,
Eric Flatt,
Zoey Graff,
Fama Ndiaye,
Harper Barth,
Isabella Carmenate,
Calyssa Nowviskie,
Payton Ricci, Kaitlyn Mitchell,
Maria Jesus Santana,
Maria Ines Zelaya,
Jena Martin,
Vy Phan,
Alessio Rapaglia,
Laney Roberts, and Kylie Ruffino.
—
Duration: 8 weeks.
My roles:
S
ervice Designer, researcher, analysis, ideation, and documentation.
About
GoogleYou; is a new service-based, tailored advertising experience which will empower users and allow them to understand their data in a delightful and transparent way.
Original Brief
How might Google imagine the future of online advertising?
SCAD is collaborating with Google to research and develop digital advertising concepts, creating an innovative and effetive campaign that includes new formats for different surfaces informed by future trends.
Where it started
10 week process from discovery, analysis, and design.
Reframing the original challenge
How might Google become a valuable asset to
users
and

businesses

in the

future of online advertising

and brand experience?
Research guiding question
HMW describe our users' attitudes and behaviors towards brands and advertising?
HMW describe the businesses' brand and advertising experiences?
HMW forecast the future landscape of technology and advertising?
Synthesis


Guiding insights
For both users and businesses, there are three guiding pillars that they would like to see in the future of advertising and branding. From these insights personas were also created to show their value and ideal journey maps that were used in a co-creation working.
Empowering users is a big part of the "why" behind Google's mission statement, because the need for information transcends all borders
Change the culture around data collection
so ads make bigger impacts.
Ads should have a deeper lasting
impact that users cannot ignore.
Development
Regaining the trust of Google Users
Connecting Google's users and businesses
Adding depth to brand experience
This phase would take place in
2020.
It's an
ad campaign for Google about ads
(kind of meta). The basis of this campaign is to
regain the trust of existing Google users and draw in new ones to our profile system by making personal data less scary.
If we could
humanize
a huge corporation like Google with relatable stories of how people currently view their ads and data, then we could move forward into a future where people can
control their data and aren't scared
of it anymore.
The Google Dome
An interactive experience where users can log onto their Google account and see their personal data visualized around them.
Google Search entry point
Those logged onto their Google account when this campaign launches will be able to experience the Google search logo being replaced by their name. This will draw them in, and if they click on it they would be taken to the new onboarding for the profile system that we create.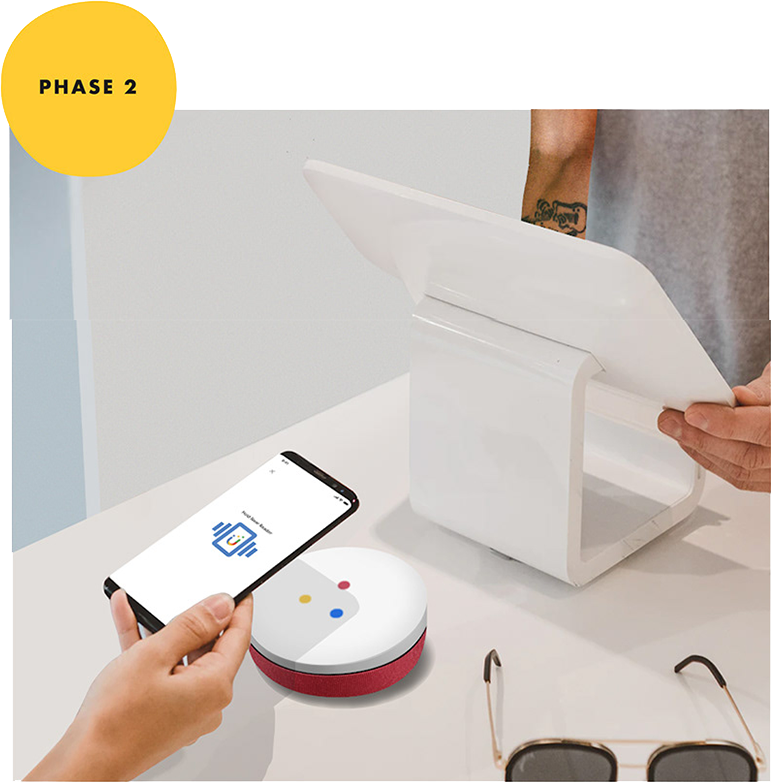 It's now the year
2022.
People have learned about the Google You system and understand how to customize and control their data. In this phase we focused on how our
online profile system could translate to in-store data exchanges.
We created an
IOT device to allow users to tap their phones to exchange data after checking out, giving brands access to their profile and allowing for more tailored content in the future.
This builds on the mental model that users already have when it comes to payment methods, except in this case it applies to the exchange of data and values.
We finally arrive at the year
2025.
People are
now used to sharing their data both online through updating their profile system and in-store by tapping the IOT device.
In this
future scenario
we decided to
see how we could expand the current Google app to include the profile system
so that people could access their brand connections and participate in online community forums. In these online forums,
communities can be formed because of individuals who are backed by brands.
We also showcase the dark mode feature of the profile, in which a user can completely shut off data access to a brand who doesn't support their values anymore, or who might have betrayed their trust.